Samarra Gardens - Iraq - croquis
new landmark in the amazing beautiful city of Iraq (Samarra) inspiring future growth and encouraging community engagement, offering a new platform for the local craftsmanship.
S.O.L
Martian Seed of life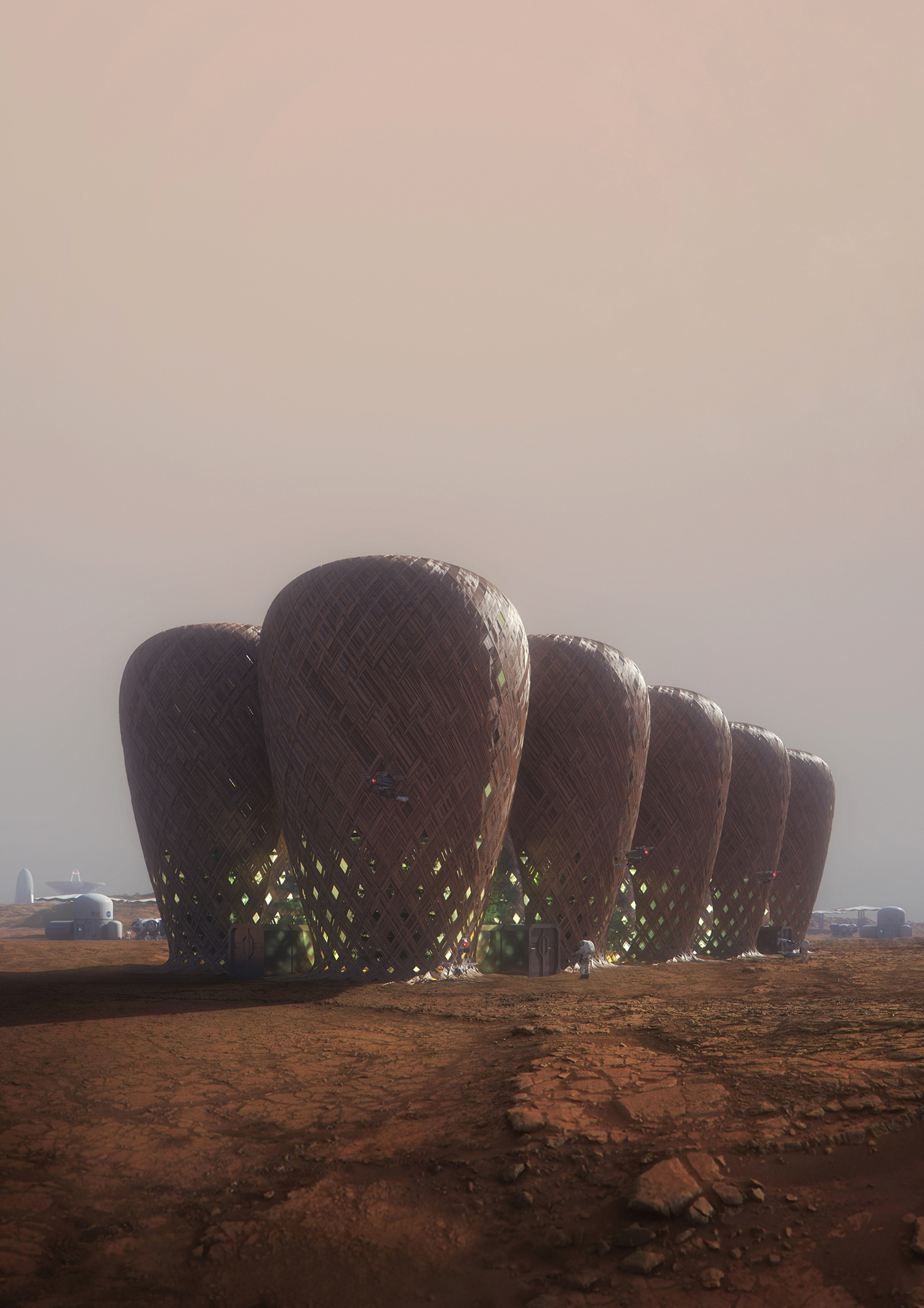 Tropical Garden - Iran Mall
The Tropical Garden is a botanical forest environment designed to surprise, educate and delight. Set atop the Iran Mall, the largest planned mixed-used retail, hotel and luxury entertainment complex.

Inspired by the pistachio, a treasured symbol of Iran's rich cultural heritage, the tropical indoor forest sits inside adjoining transparent oval glass shells, on a large reflective pond on the mall's rooftop.
NBBJ - QUARRY BAY - HONGKONG
Beyond slums - From camps to cities - Case Syria - Design&More
A NEW PERSPECTIVE TO THE REFUGEES CRISIS.
Since the outbreak of the civil war in march 2011, millions of Syrians have fled their homes heading to an unknown future.

A border used to be a wall that protects but today it became a drawn line on a map that defines who you are and determines futures.
WOODS BAGOT - Study for new destination waterfront district - Arabian Gulf
HOPKINS - SAUDI PAVILION - DUBAI EXPO
FOSTER + PARTNERS - CREATIVE CLUSTERS - DUBAI
Baghdad Design Centre - Design&More
Baghdad is a cultural landscape – a palimpsest that records the passage of life in the cradle of human civilization. Over time that life has been prosperous and at other times it has been painful.

The intent with the new built program is to respect the history written in this landscape by touching its ground very lightly.
THE CIRCLE - ZURICH AIRPORT
mvrdv - sakharov - russia
KPF - ASIA GAMES 2022 - HANGZHOU
AGENCESEARCH - FERNEYVOLTAIRE - FRANCE
KPF - QIANHAI DISTRICT - SHENZEN
CALLISONRTKL - CITYWALK - DUBAI
CALLISONRTKL - HOTEL - ABUJA
Woods Bagot - Hotel Umbria - Italy
Keelung Crystals - Taiwan - PATTERNS
Woods Bagot - St.Mary School Library - London
KPF - London Bridge - Tower
KPF - Competition - Shanghai
KPF - BEVIS MARKS - LONDON
Museum of civilization Beirut - GM Architects
KPF - MASTERPLAN - LONDON
Uptown Mecca - Design&More
Rainforest Rosemont hotel - Dubai - ZAS Architects
MVRDV - Weenapoint - Rotterdam
Saman Faraz towers - Tehran - Iran
KPF - EarlsCourt Hotel - London
GM ARCHITECTS - Rayhaan Rotana - ABUDHABI
SCIENCE MUSEUM - EGYPT - DESIGN&MORE